Vidgum monitors the global trends in the tech development and invests in the software solutions that protect the money and our partners' personal data, improving their user experience. We have developed a modern, convenient workflow that meets the global safety requirements.That way the authors will be sure that their personal information is well-protected, and their income is always under personal control. The new personal dashboard is a technologically new product that allows us to correct errors and help authors to solve their problems quickly and efficiently. At the same time, it allows the partners to conduct a detailed analysis of their channel using an all-new, user-friendly interface.
Plus, it's also an opportunity for our creators to launch the coolest projects and receive payments for them.
The new product is still in beta, so something may break and not work. In such situations, immediately contact the support - we are in touch even during the off-hours.
Facebook
Instagram
E-mail

*You can find product Public Offer Contract here.

Registration
Follow the link http://ezzy.co/ and click "register"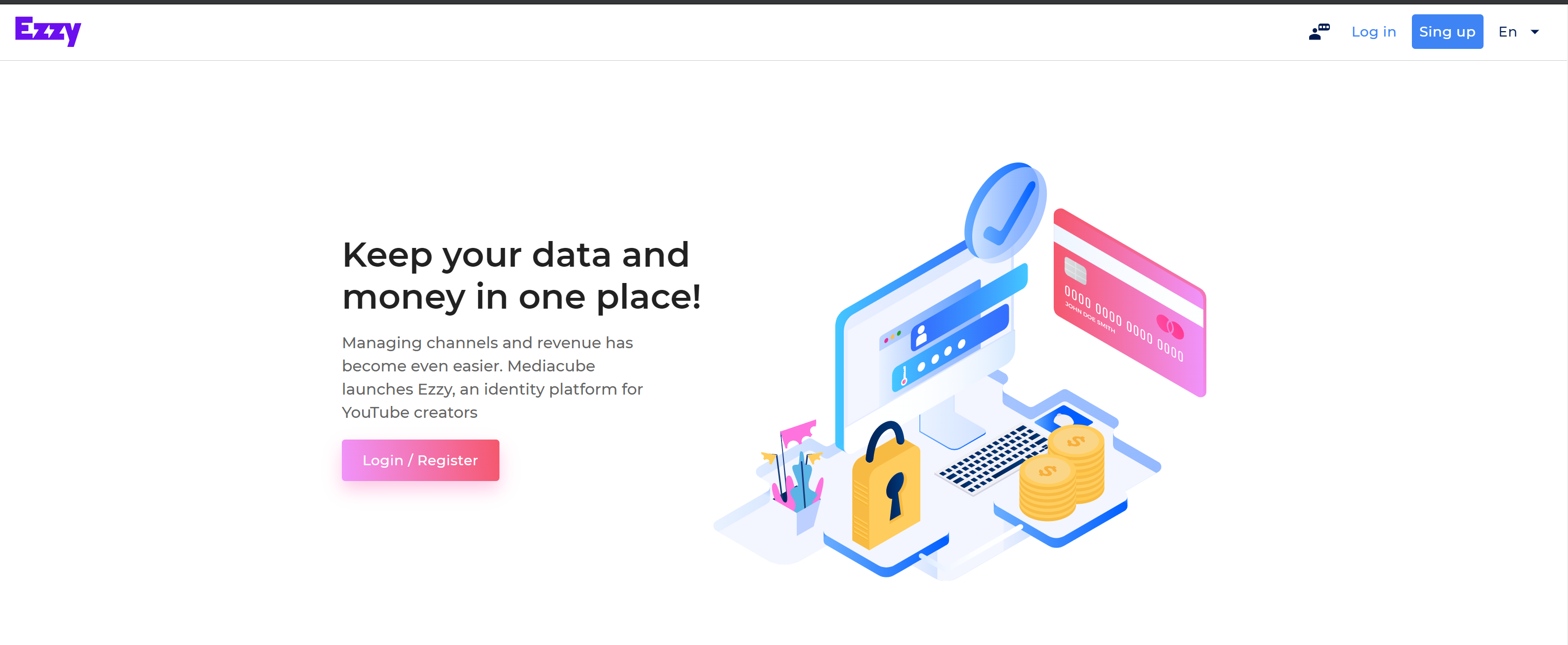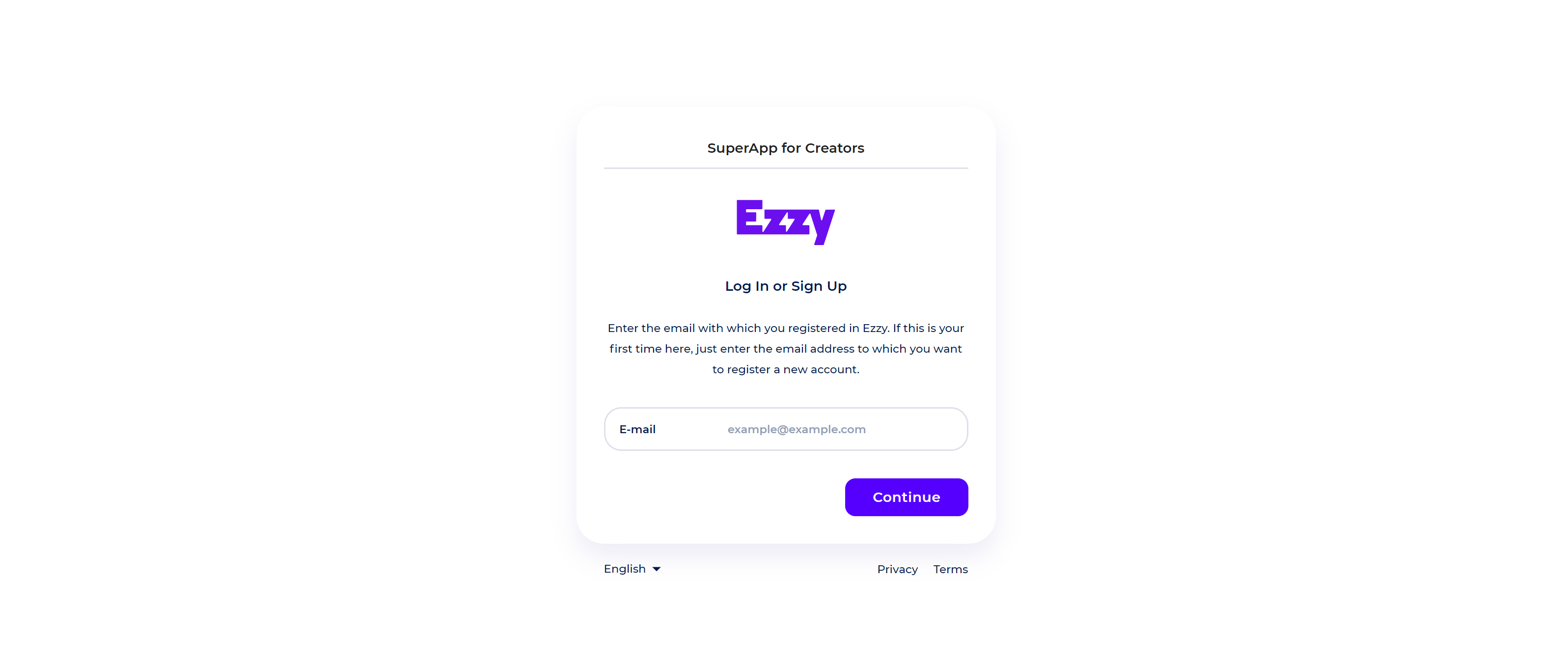 Registration form
Enter the email address via which you can be contacted and which your account will be linked to. You may enter any email of your preference. It does not have to be the email that is linked to your YouTube channel.
Important!
Choose the email address that you use constantly because you won't be able to change it.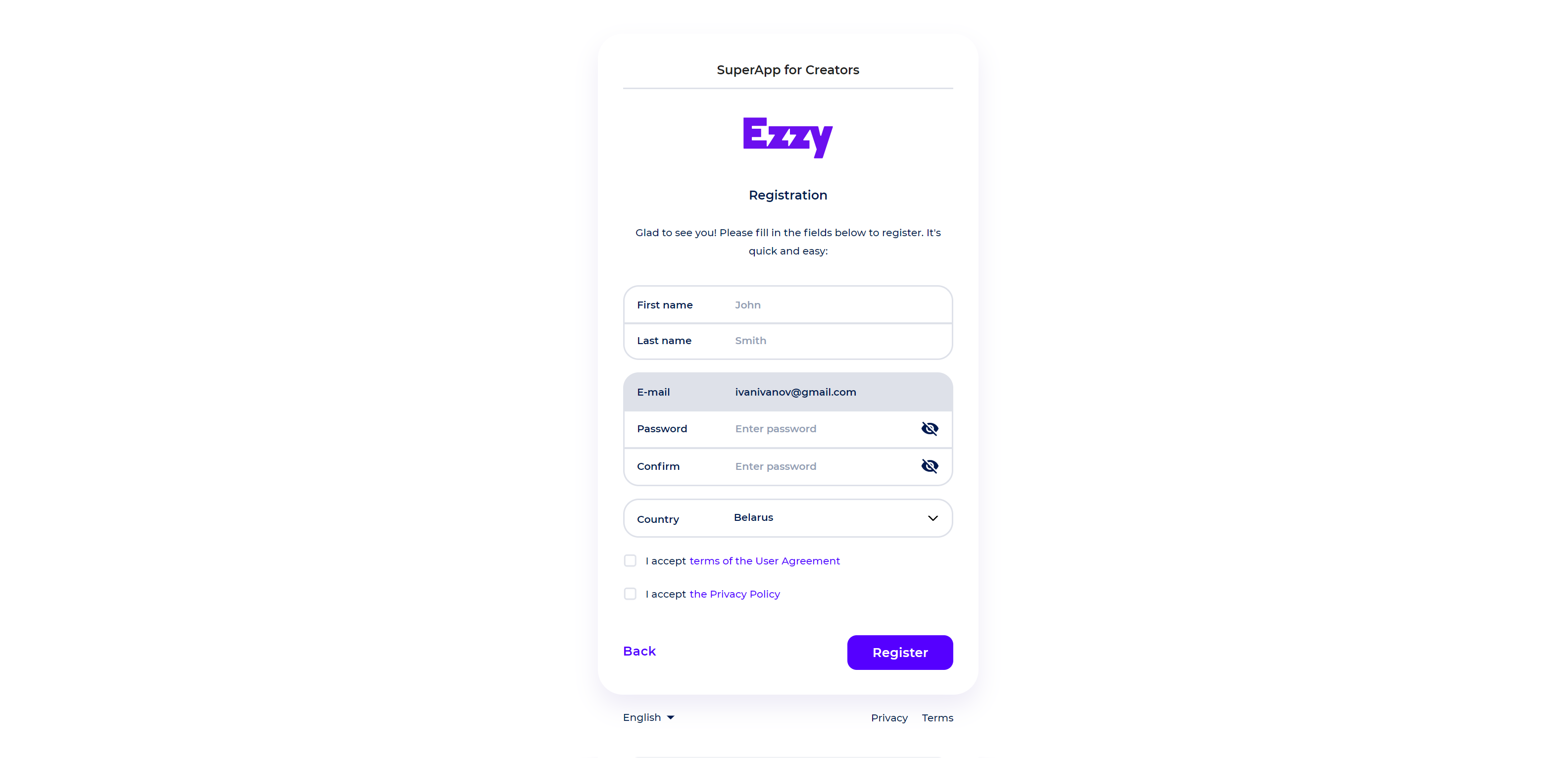 All that's left to do now is to confirm the email! Go to the inbox of the email address that you used during registration: there you will find a letter in which there will be a link to activate the account.
Congratulations!
You are in your Personal dashboard. First of all, you need to link your main /only channel that is connected to Vidgum to your Personal dashboard. You can do this by clicking "Add" in the Channels section.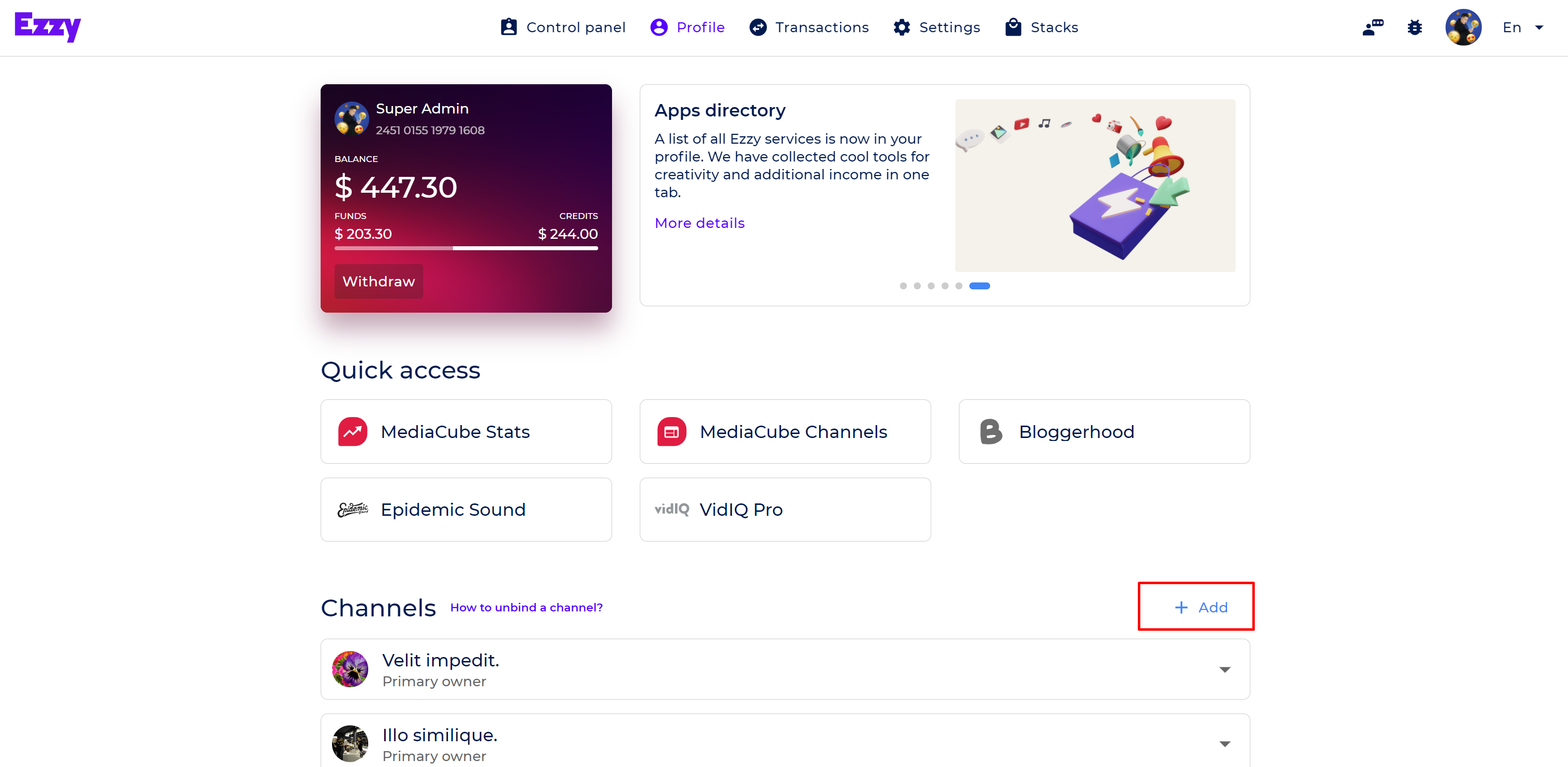 The system will offer you to log in using a Google account, simply select the one you need. After that, you need to allow the Ezzy application access to your account.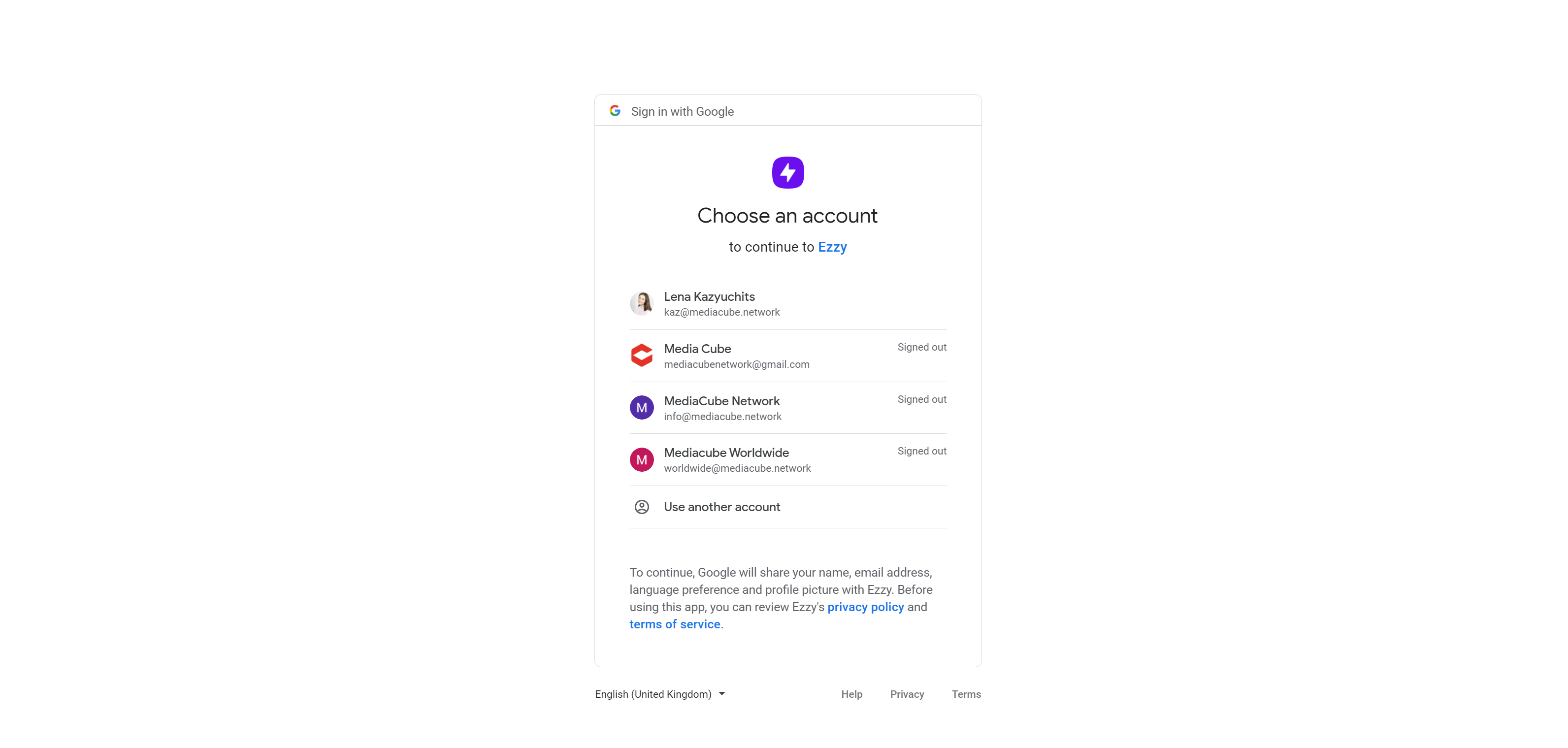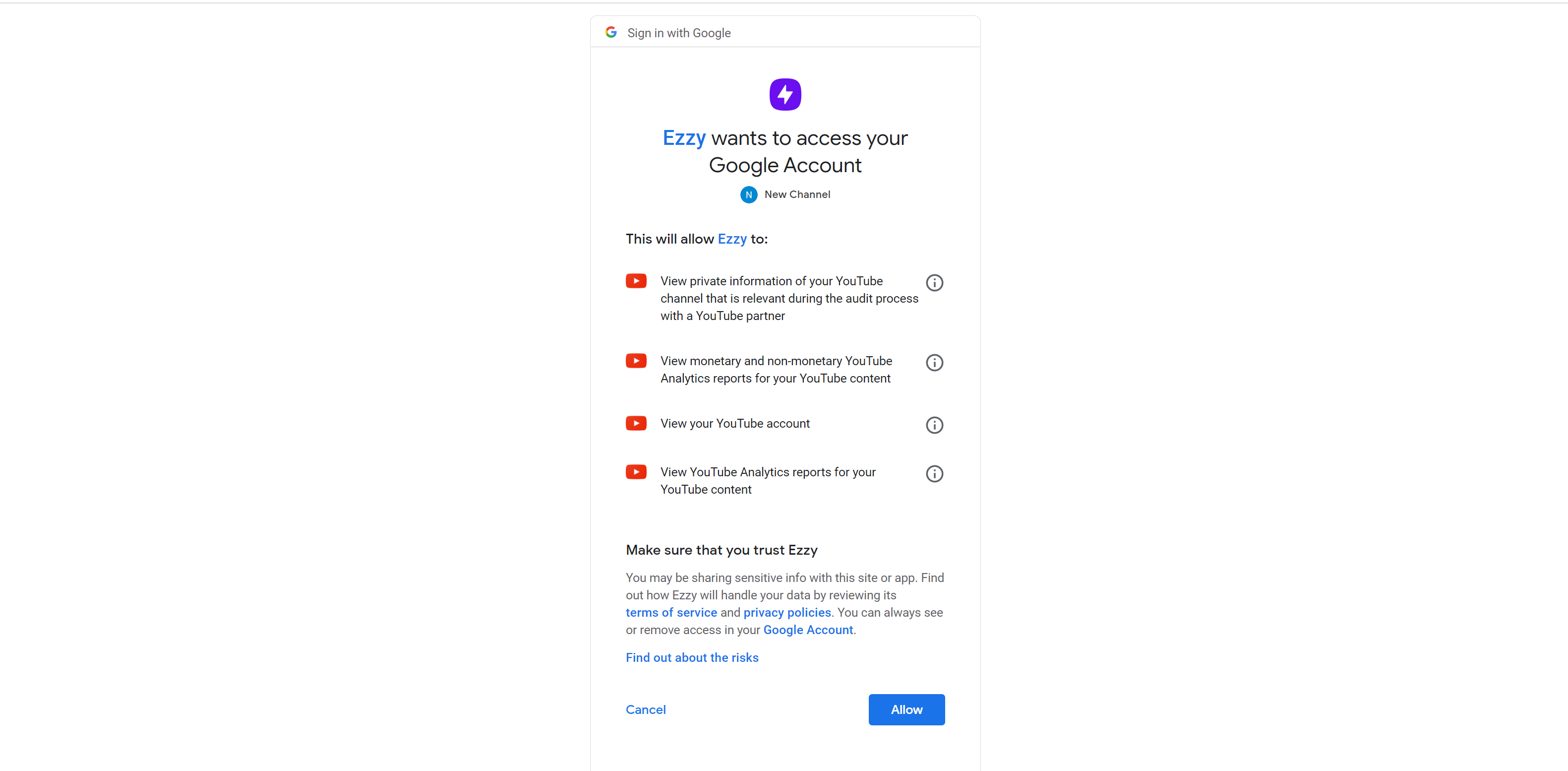 There are the standard Terms of Agreement now to go through. Don't worry, our managers will prepare for you the exact contract that you have with us now. At this stage the linking process will be complete.
The main sections of Ezzy:
Profile Information
Personal information that you need for documentation and payments. Profile information can be filled in only once. Why?
Vidgum follows international identification standards to protect personal information and to minimize the possibility of any errors. If the data needs to be corrected, just write to our managers, and they will help to resolve the issue. But better take 2 minutes of your time and carefully fill out this little form.
Payment details
You need to add a payment method so that we could pay you.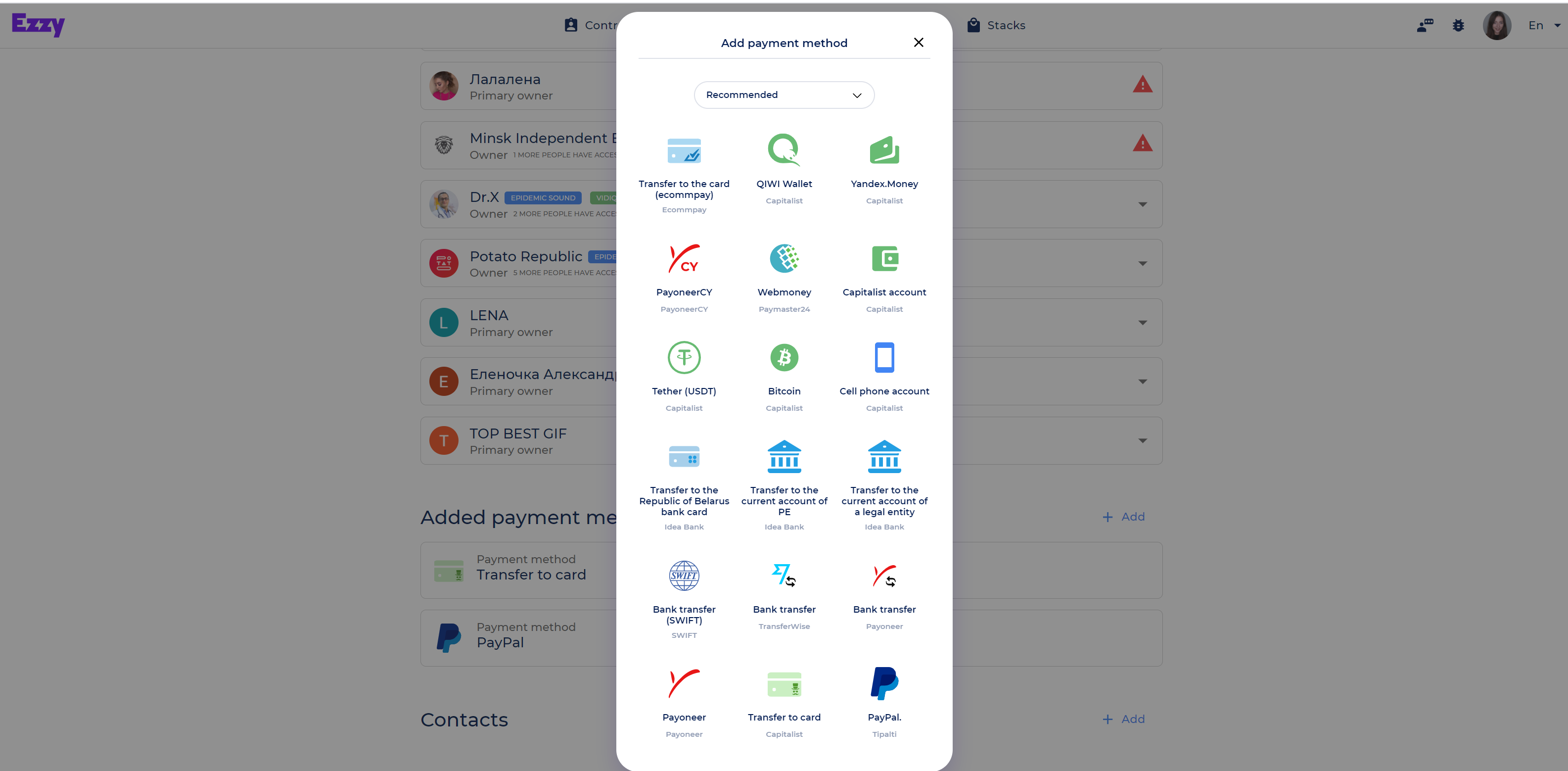 The authors of Vidgum receive payments using the systems that are convenient for them. The choice of payment method depends on its availability in a particular region.
Current account
Previously, payments were made AUTOMATICALLY. Now, it will be necessary to withdraw money MANUALLY by clicking a special button "Withdraw to account". Why?
The extra security measures are necessary so that the author had control over the payment system, and their actions were legally significant. Therefore, remember: under no circumstances should you give access to your account to the third party! Because all the actions on the dashboard will be considered as taken at your will.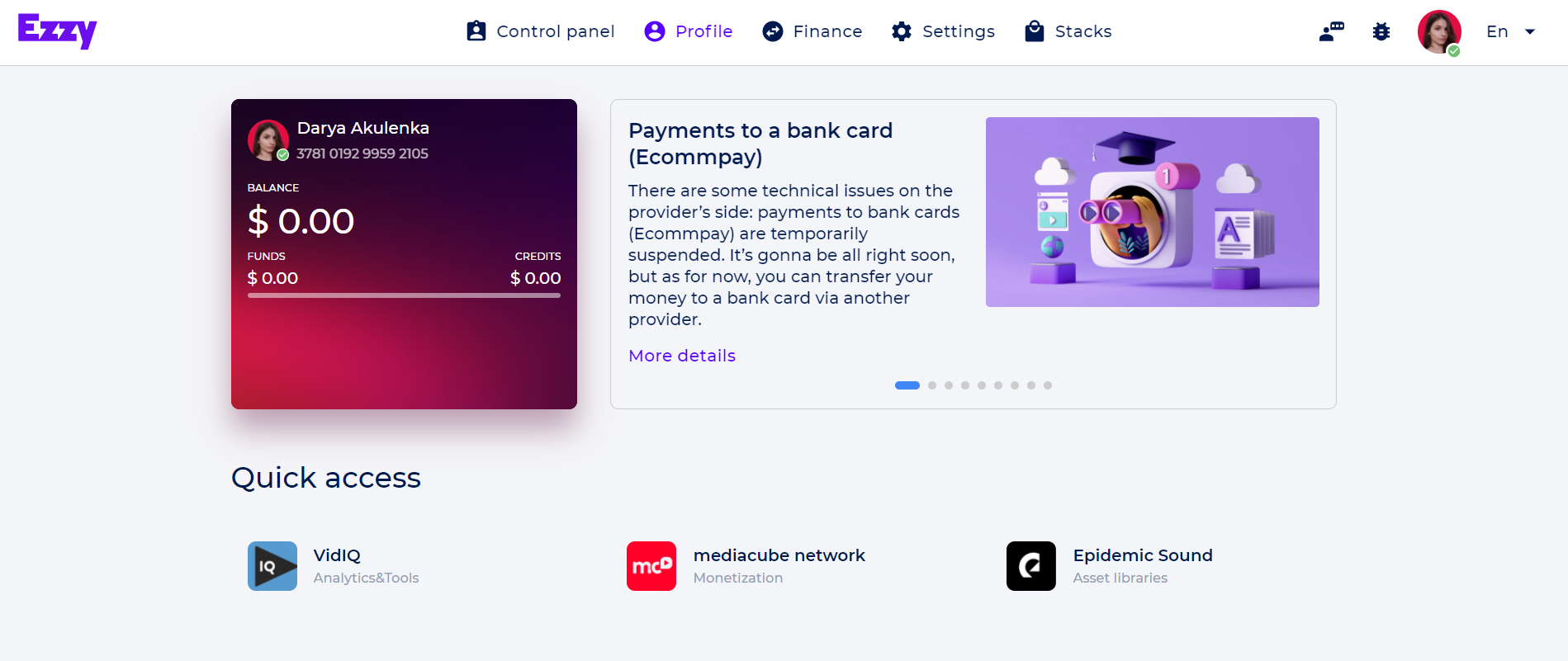 A beautiful sign with a pink gradient at the top of the page shows your balance. Funds are the money from Google that can already be withdrawn to account. Credits - the amount of funds that a Vidgum user can use at the moment, but it is not backed by a real money order from YouTube and is an indicative credit forecast based on YouTube Analytics. Thanks to loans, you can withdraw money to your account every day - we call this possibility express payments. Credit funds can be used with a fee of 2.9%.
When the first money are paid, the "Withdraw to account" button will appear. You will receive money via the payment method that you provided when you filled out the profile information. After clicking the "Withdraw to account" button, you will need to specify the amount that you want to receive. You can request all the money at once, or only a part of it.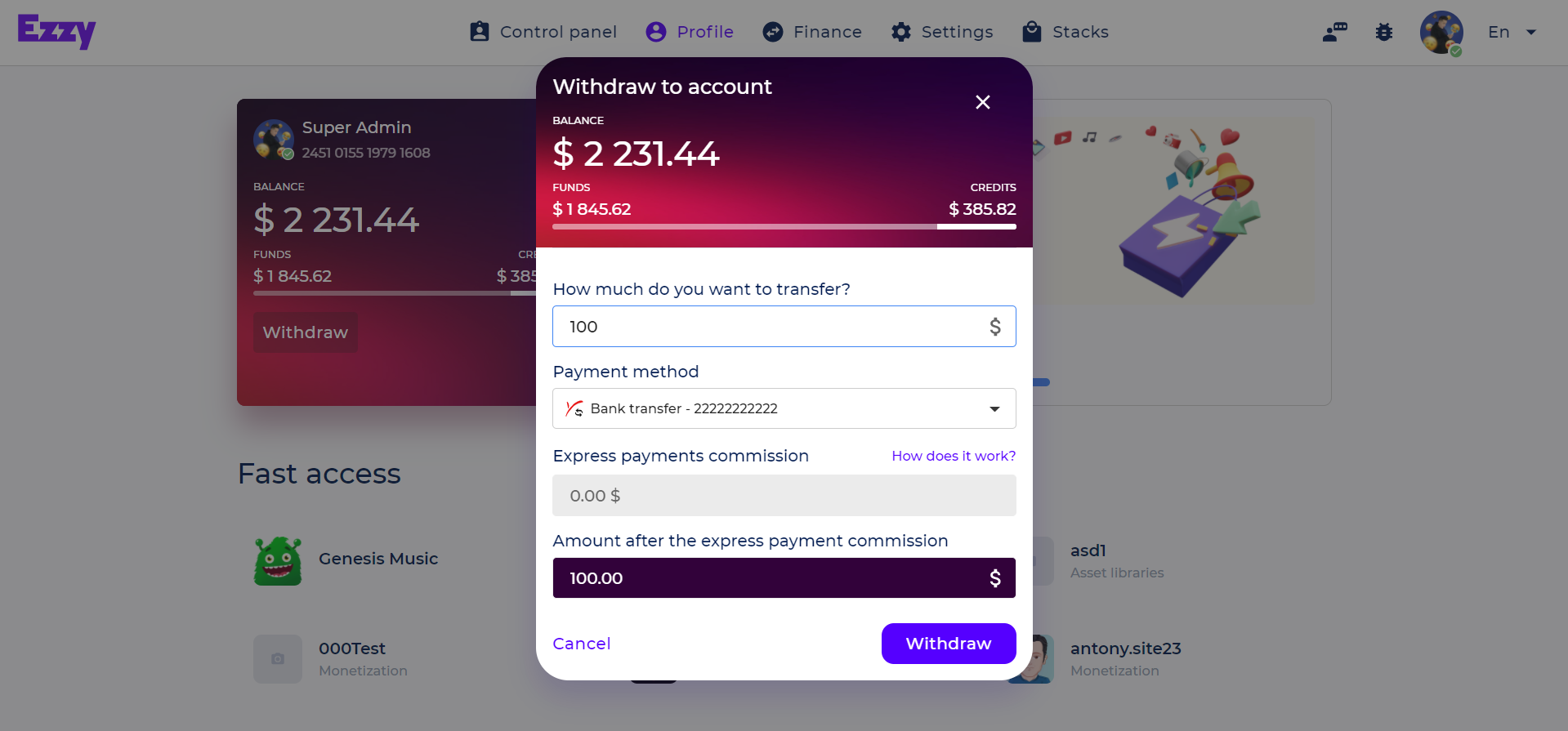 Important! The payment systems may have a minimum amount for a transfer / a fixed percentage of the transaction fee. It varies for each region.

Channel linking
If more than one channel is connected to Vidgum, you can link the rest by clicking the "Add Channel" button. Adding a channel is executed through a Google account. You choose the one you want and allow the system to access it.
Important!
It's not only you who can have access to your channel. For example, your friend a.k.a. a manager may have it too. The person who first adds the channel to Ezzy dashboard will be listed as its "main owner". Payments will be transferred to their account. Other people adding the channel to their personal dashboard will be listed as "owners". But only the original owner of the channel will be able to accept an invitation to connect to the network.

Important! If you are the main owner of the YouTube channel, but for some reason not the main owner in the Ezzy system, contact support center - the issue will be resolved.
Contacts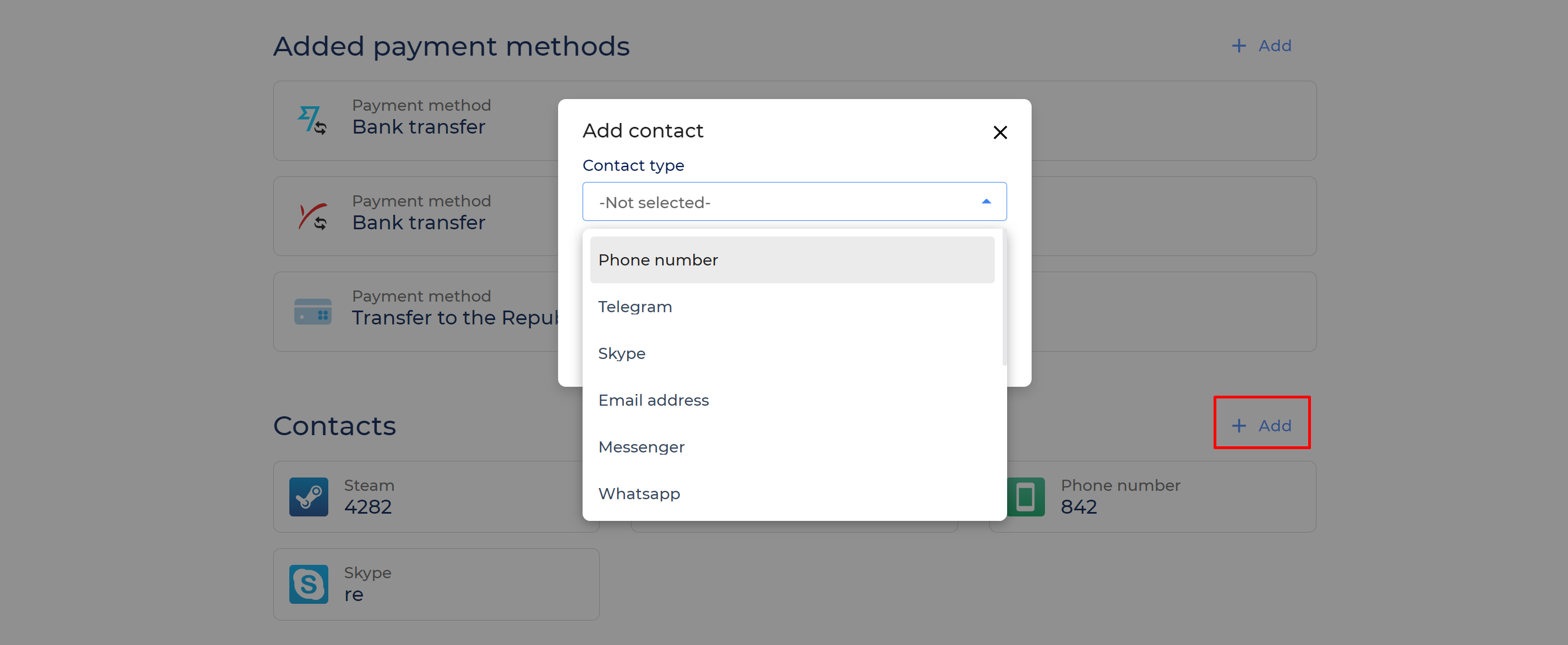 Add contacts from different social platforms. What for?
Sometimes our managers find it hard to reach the authors. What if there's a question that requires an urgent answer? It may be faster to contact you via Facebook / WhatsApp.
Quick access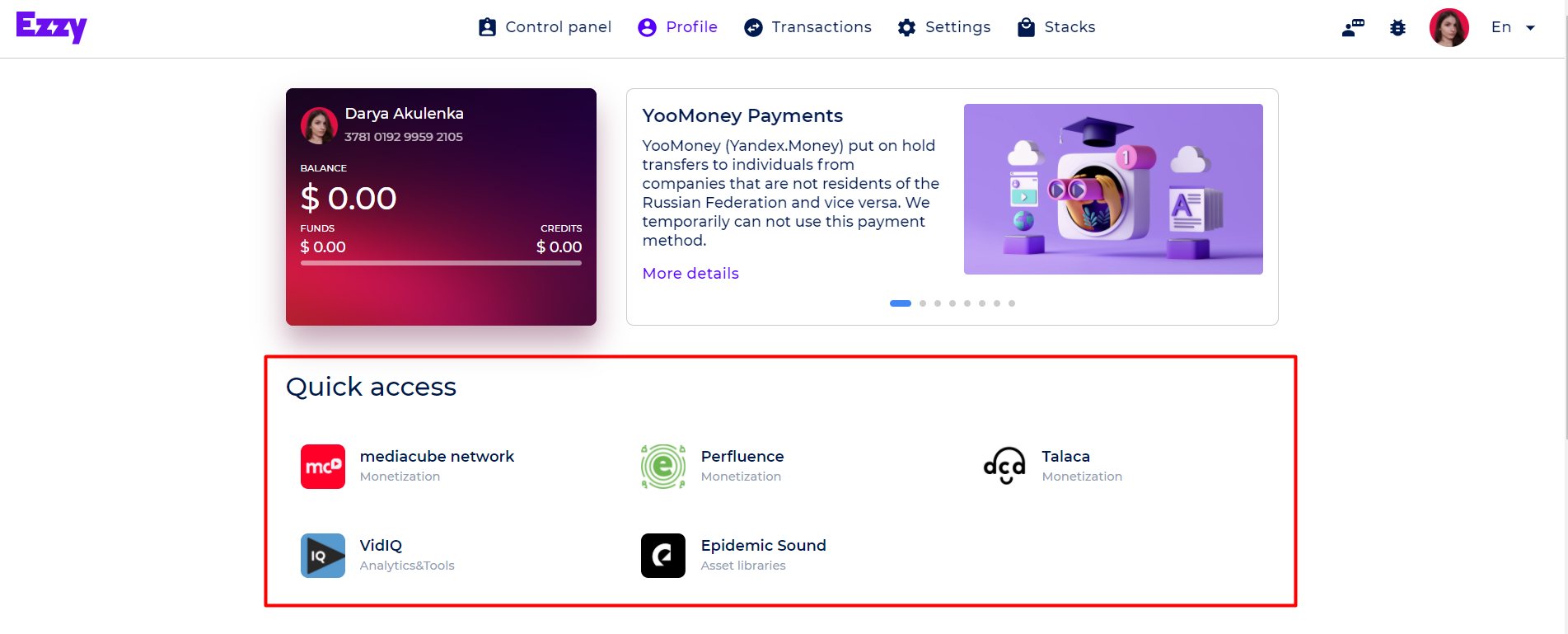 Quick access panel has all the apps available to you on it. It is dynamic. You can get rid of unwanted apps by clicking on a "cross" next to them, and add the necessary apps by clicking on "Quick access" button in the Stacks tab.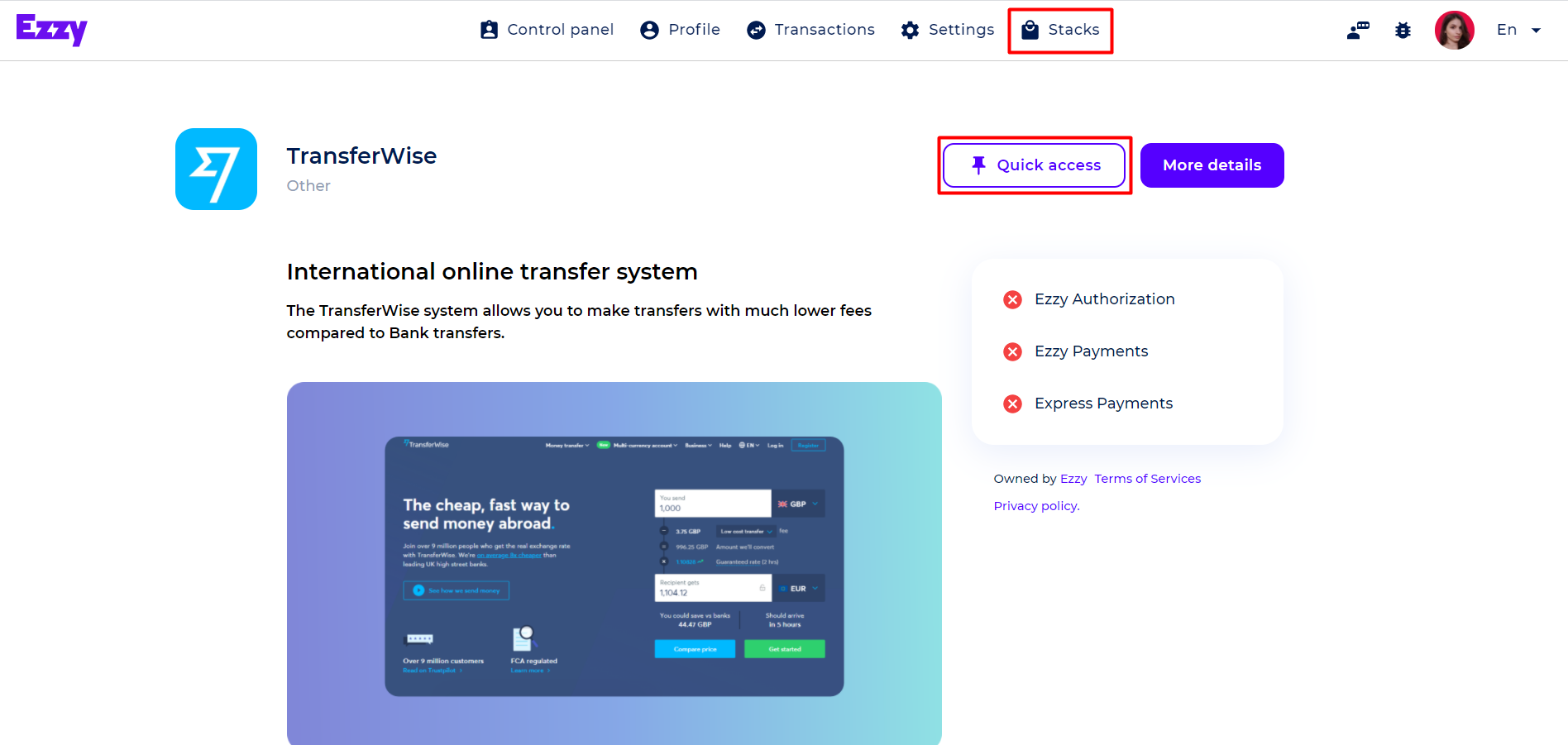 Channels button is temporarily unavailable on Quick access panel. We will fix it in the nearest future and in the meantime, you can access it at the direct link.
Studio button is also temporarily only accessible at the direct link.
Studio allows you to see the revenue statistics, check all objects (videos, their reuploads, the income from the reuploads, if the object is protected by Content ID). This will help you to conduct a detailed analysis of your content, and to determine the growth strategy of the channel. All this data will appear with the first report.

Vidgum Assist - access to the knowledge base of our network. All about payment methods, services and partnership with Vidgum. You can also ask any question to our support.

Mediacube Ads
Another ad feature is Mediacube Ads. This is a platform where you can make deals with advertizers through our advertising agency. Being added to Ezzy your channel is already automatically registered with Mediaсube Ads. You don't have to do anything extra. If a brand wants to partner with you they will contact you in social networks or by mail.
How to change the avatar?
It's very simple - click on the icon with a camera symbol and choose your favorite photo. But if the picture has too big resolution, the system will not be able to save it.
Profile photo
When you click on the profile photo in the upper right corner, you will see a menu with additional tabs.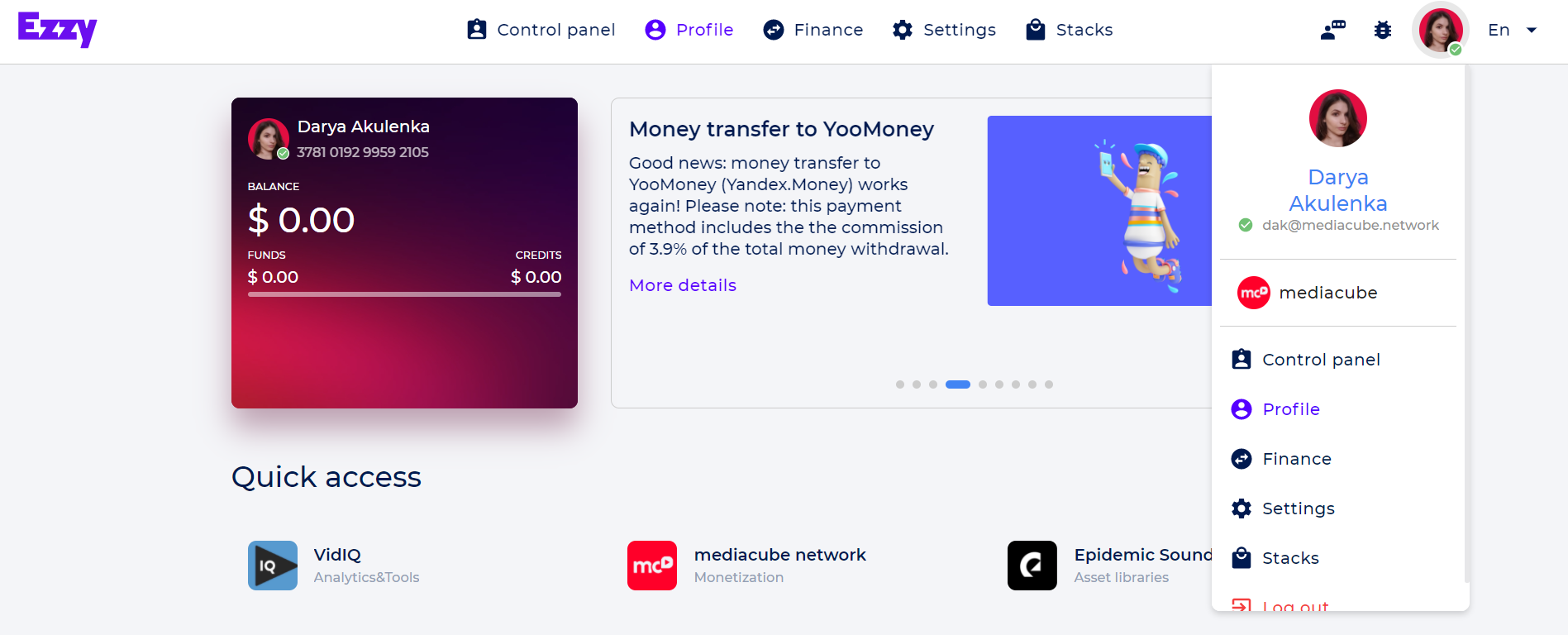 By clicking the "Profile" tab you can return to the main page.
Transactions is a list of all completed transactions with detailed information on each one.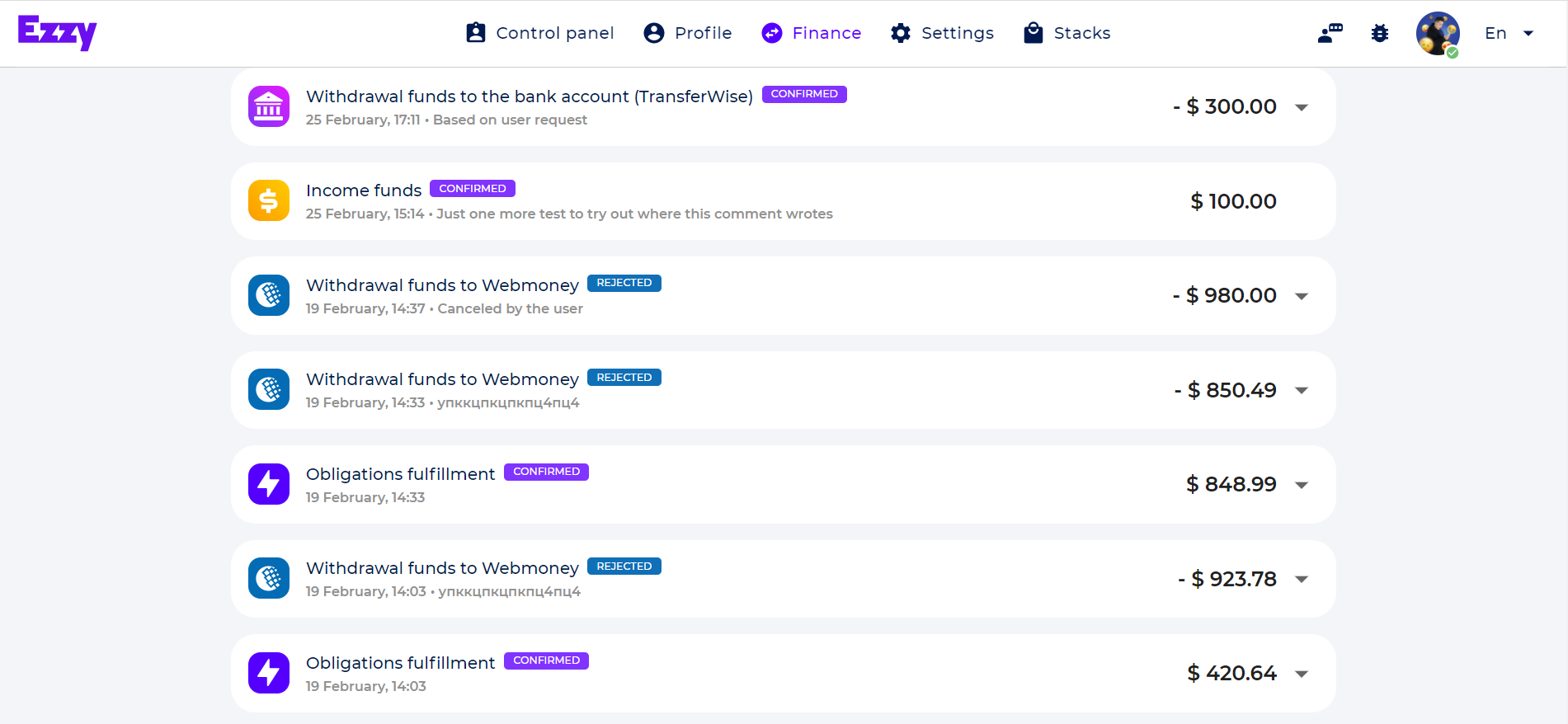 Settings
In Settings you can change your password and add your personal info.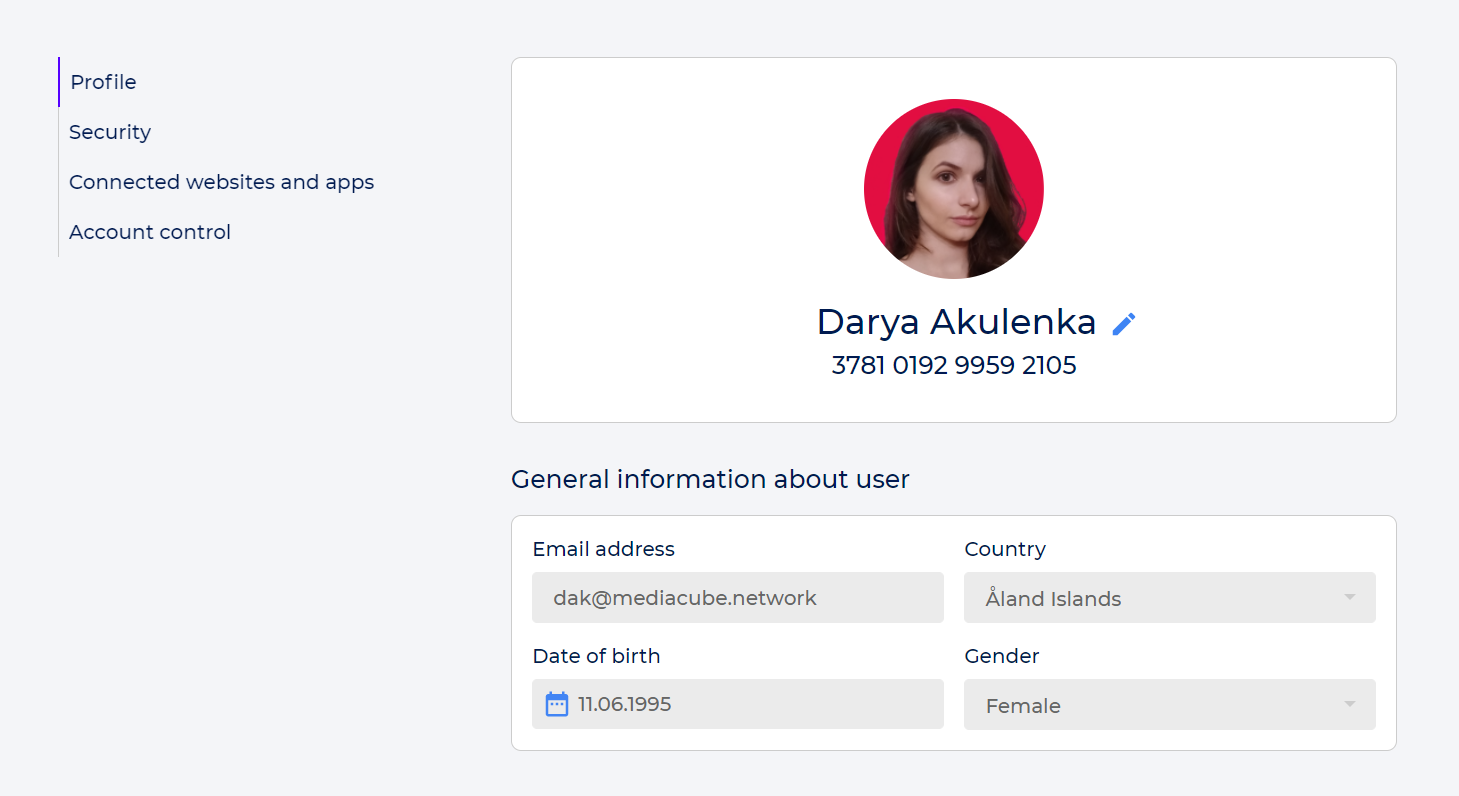 Remember that you can only fill those fields out once, so be careful. If you make a mistake in your info, you'll have to contact our techsupport to fix it.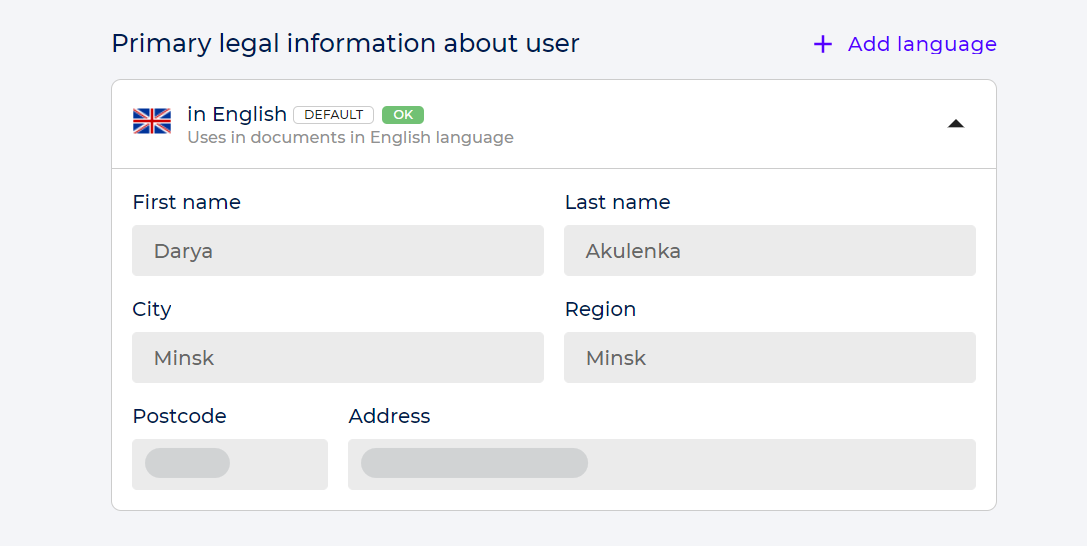 2FA
In Settings you can activate the feature of two-factor authentication, to add one more security level to your account. Before enabling 2FA, read our instruction very carefully. If you enable 2FA incorrectly, only our developpers will be able to turn it off.


If enabling 2FA is not available to you, it means that you need to go through our KYC procedure first.

DELETING YOUR ACCOUNT
So far Ezzy does not allow unlinking separate channels from the account, but you can delete your entire account from the system. For that you need to go to Settings - Account control. Before deleting your account read info in the pop-up window very carefully and check each of 7 boxes. If you have any money on your account when deleting it, you won't be able to withdraw it anymore. That is why you better withdraw all money from your account and then delete it.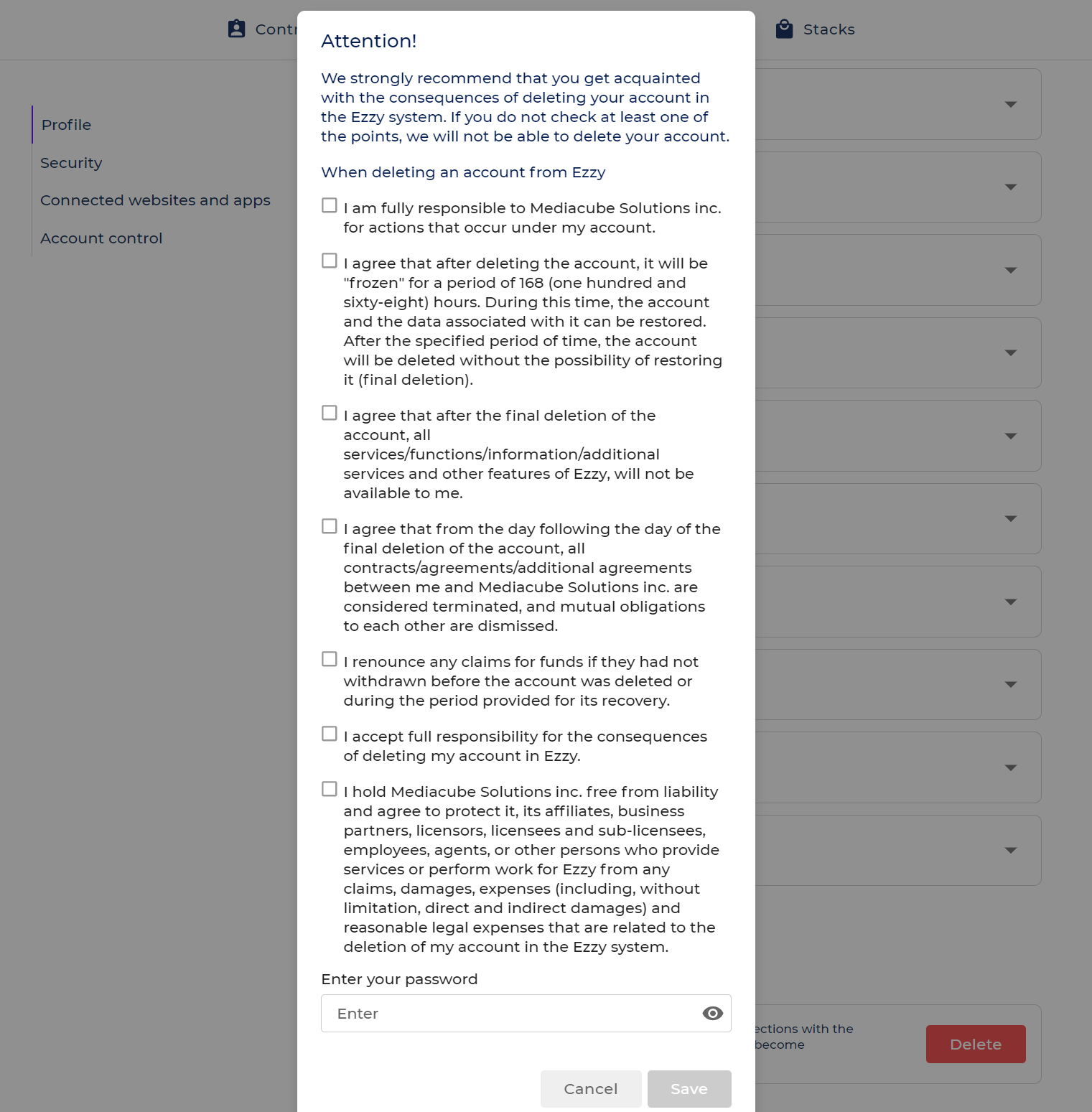 Chat icon
Next to the photo of your profile there's a chat icon - if you click on it, it will take you to the support window. There's something that doesn't work or something you don't understand? Write to our managers directly from Ezzy, we will respond and help! ;)